My trip to Bosnia-Herzegovina and Croatia – Part 1
A hunting trip is one of the most rewarding experiences you can do as a hunter. It's a unique way to discover new countries, people, and cultures. It's also the best option if you don't want to visit a place as "a tourist" but live the way "locals" do.
To get the most out of your trip, you need to find a qualified guide. Not only someone that knows the place and the wildlife but also someone who has patience, compassion, and who is willing to listen to your needs. It's also important to be well accompanied during the hunt. Sometimes, local guides can be stressed as they will only be paid if you get the animal. This is something that can ruin your trip.
I specify that it's not a "paid advertising" campaign for a hunting trip company. I paid for this trip. So everything you will read is true.
Preface
This story started four years ago during the annual fair "Passion Nature" in Martigny, Switzerland. I was seeking a hunting tour operator to go hunting around the world. This is where I met Anel. I remember his booth because it had tons of pictures on the walls. After 30 minutes of conversation, I was pretty convinced that he would be the perfect guide for me. He was calm, friendly, and reliable. I was ready to organize a trip with him.

Unfortunately, a lot of work and the pandemic situation postponed this project. We met again this year because he started to be an official Sitka importer for Switzerland.
In his showroom, we decided to organize two trips: Croatia for the mouflon this year, and Ibex in Tajikistan next year. As I was pretty flexible with my calendar, the trip to Croatia was dependent on him going to the East of Europe for Christmas and New Year.
This is something you don't usually do. Most of the time, you organize a trip one year before and you go with a group. But for me, the only way to do this was to find a group or to go alone last minute.
And this is what I did, going last minute. It was Thursday morning when I receive a call from Anel asking me if I was ready to go in the evening. For a moment I hesitated – I need to be in the mood when I go on a hunting trip as it's always quite an adventure. My girlfriend often helps me to take decisions by motivating me; in this case she pointed out that sometimes in life, you have opportunities that you need to take, even if they're out of your comfort zone.
I did not regret my decision. And as a "bonus", we planned to hunt small games in Anel's place in Bosnia for the first two days.
So, after quickly packing my stuff, I was ready to start the adventure.

A million thanks to Anel – he had to organize this trip last minute which was not easy because he owns a company in Fribourg, and members of his family from Bosnia and Herzegovina were in Switzerland.
Chapter 1: Small game in Bosnia and Herzegovina
After a 12 hour road trip we finally arrived in Bosnia and Herzegovina. We didn't sleep a lot. On the inside I was too excited about the trip.
We stopped at a small town restaurant to eat the traditional Tarhana soup. The soup was delicious but I was more impressed by the fact that this place is open from 07:00 to 23:00. As a Swiss, I am not used to having these kinds of opening hours.
Another detail that caught my attention was the dogs on the street. They don't have collars and they're free to go wherever they want. I only saw one person walking with his dog on a leash. Something else I noticed was that people don't live in buildings (except in big cities). You only see houses and they are all different. In this country, you are free to do anything you want with your house, which is also something that is completely different from Switzerland. The result is a multitude of houses all different from each other. It's like playing Minecraft.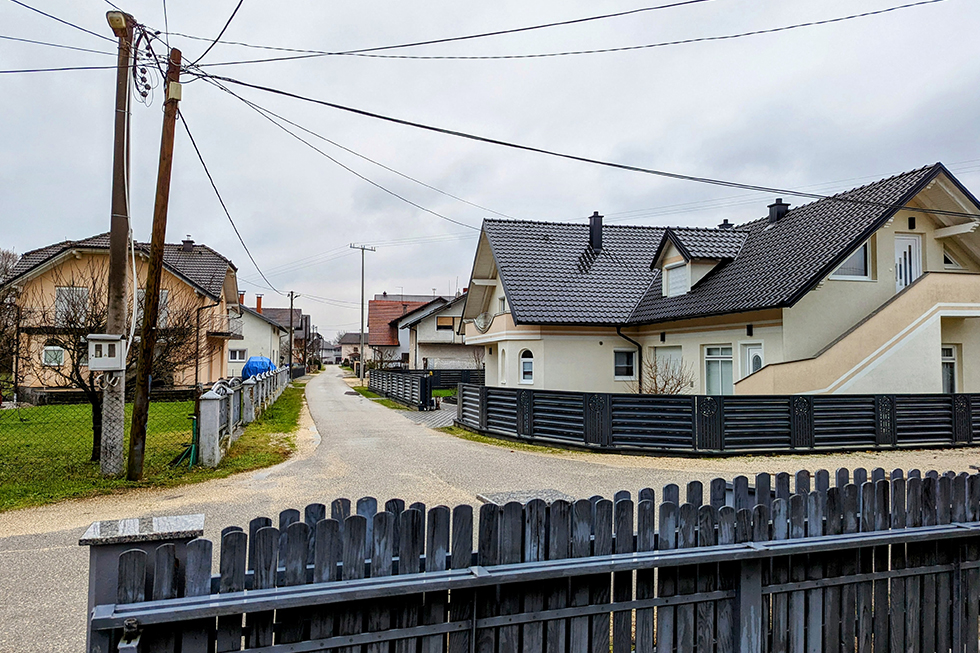 After a quick stop at his aunt's place (who was super welcoming), it was time to go to Anel's place to start hunting.
We made a stop at the supermarket to buy some Mladi Kajmak. (If you go there you need to try this)
I was excited to hunt pheasants for the first time, but first, we had to get my hunting license to the game warden. A fun fact is that the office was on the second floor of a restaurant; also unusual for me.
With the license in my pocket, we were ready to hunt. As the hunting territory was in front of the house, it was convenient and quick. So in a couple of minutes, we were ready to go and on the field.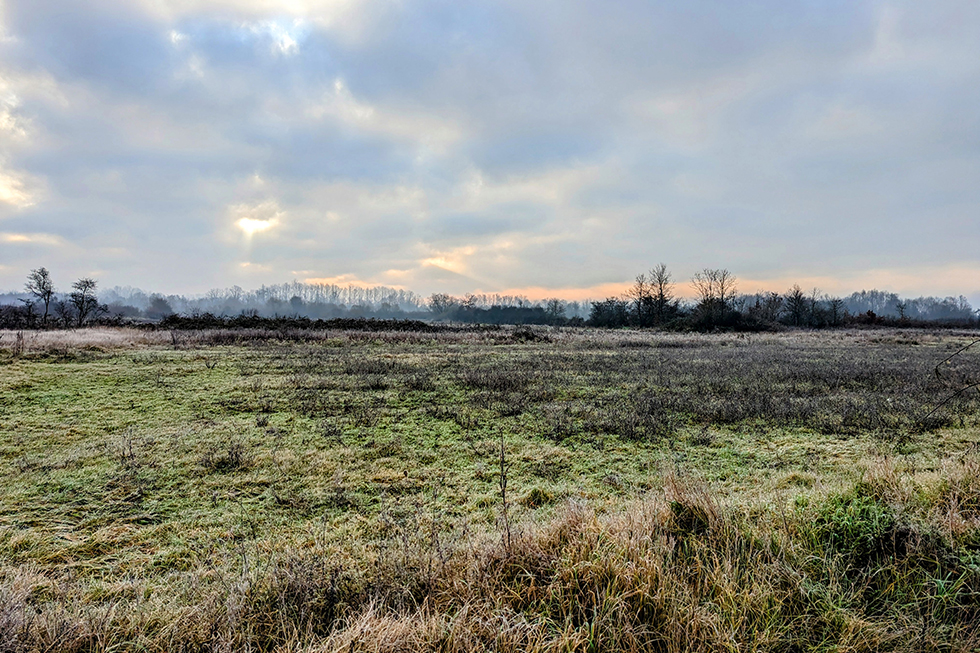 Anel explained to me that the place had been flooded after one month of heavy rain, so it was more difficult to walk than usual. This made the hunt quite challenging as I became very tired. Plus, I'm not used to this type of hunt. The pheasants are wild birds, which is not always the case – in some countries they are breeding birds. When they are wild, these birds fly like rockets and they're super sensitive when you walk near them, so you have to be always watching the dog and be constantly alert.
This is something I clearly did not do the first day. I was so focused on walking through the water and not falling over. The result is that I missed a bird. The dog did a perfect job but I was not focused on him, and I got a surprise.

At this moment I understood the purpose of hunting pheasants. What is important is not the kill but the dog's work, and to see this bird flying like Superman is so exciting that you don't care about the rest. I finally understand the passion people can have for bird hunting, so thanks to Anel for sharing and passing on your passion.
After a freezing duck hunting session during the evening, I was finally ready to sleep.

The next day was a little bit different, I was less exhausted and a friend from Anel came to hunt with us. He came with his son who was not able to hunt. His father wants him to finish university before doing his hunting license. This shows the importance of hunting in this country and also the cultural difference. Finish your studies, make something of yourself and then you can hunt. I love it!
The hunt was amazing! His friend brought his dog and it was so fascinating to see how dogs love to seek birds. The moment they are pointing small game is so intense. In the end, I didn't get any pheasants but I have my head full of souvenirs!
We also saw a little girl on her pink bicycle coming back from school with a Belgian Shepherd on her side. I was so hypnotized by this moment that I didn't take a picture.

After a beautiful day of hunting small games, we were ready to drive to Croatia for the next step of our trip: the mouflon.
I really enjoyed these two days in Bosnia. I was impressed by the kindness of the people I met. You can clearly see that this country was at war only 27 years ago, but I felt a feeling of freedom that I never felt before. There, it's possible just to seek a simple life, with your family and friends, eating and hunting. With this way of life, you can definitely find peace.
Pour la version podcast en français, voici le lien


---
Also to be read
September 8, 2022 | Hunting stories
As a Swiss hunter, the opportunity to hunt an ibex is quite a privilege. This hunt is not included in the annual license you buy each year so you need to get into a selection process. Therefore the process behind this hunt is so precise that it deserves its own article. Let me share my […]
December 28, 2022 | Hunting stories, Hunting trips
This is the second part of a series of articles "My trip to Bosnia-Herzegovina and Croatia". To get the best experience, I recommend reading the first part. Chapter 2: The mouflon quest After two intense days of hunting small games in Bosnia and Herzegovina, it was time to head to our next […]
December 29, 2022 | Hunting stories, Hunting trips
This is the third part of a series of articles "My trip to Bosnia-Herzegovina and Croatia". To get the best experience, I recommend reading the first and the second part. Chapter 3: The day after After an unforgettable day hunting mouflon, Anel organized a fishing session with the owner of the Konoba […]