My first wild boar was a keiler
Hunting a keiler wild boar can be a thrilling and challenging experience for any hunter. Keiler boars are known for their fierce nature and razor-sharp tusks, making them formidable opponents in the wild.
However, taking down one of them is not easy. It's the kind of animal that you get once in a lifetime.
In this article, I'll tell you the story of the first wild boar I hunted, which happened to be a keiler.
The place
In Switzerland, we don't really do driven hunts, and hunting wild boars is quite complicated to organize.
As a result, I go hunting in France after the high season. One of my favorite places is in Alsace, a small town named Guebwiller, not far from the Swiss border.
Staying in this area is convenient; the hotel isn't far from the hunting spot and it's not expensive at all. Nature is beautiful and the people are welcoming.
For those who don't know, to be able to do driven hunts in France you have two options. The first one is to be invited to private land. The second one is to be invited to a hunting association or to pay a yearly fee to allow you to go hunting and invite a friend.
In return for being able to hunt on public land, hunting associations participate in maintaining the forest during the year. It's a win-win situation for everybody.
The beast
Keiler wild boars, also known as European wild boars, are a species of wild pig that is native to Europe, Asia, and North Africa. They are a highly adaptable and intelligent species that have successfully thrived in a variety of habitats, including forests, grasslands, and even urban areas. Keiler wild boars are characterized by their thick, bristly fur, prominent snouts, and long, curved tusks. They are omnivores and feed on a variety of foods, including nuts, fruit, roots, insects and even small animals. In the wild, keiler boars can grow to be quite large, with males reaching weights of up to 140 kilos or more. Despite their size, they are known for their agility and speed, making them a challenging and exciting target for hunters.
This animal is at the top of the food chain and it knows it.
Getting a keiler wild boar isn't something I was specifically seeking. The primary reason we go hunting in Alsace is to spend the weekend with friends. I wasn't even aware of the presence of that kind of animal in this region. Also, as it was my first wild boar, I didn't have a "size objective".
The confrontation
After a decent breakfast at the hotel, we were ready to go hunting. Even though the hotel is not far away from the meeting spot, we managed to arrive delayed for the security meeting, which contradicted the Swiss reputation.
At this moment, I was so happy to be there that I didn't even care about getting an animal or not. The weather was warmer than the previous year (when I was literally frozen at the post), so everything was already perfect for me.
The morning-driven hunts were pretty quiet and I didn't see any animals. My state of mind was all about spending the day in the forest and savoring some delicious Alsacian beers in the evening.
The afternoon strategy was to place ourselves in a small area of the forest. We were three hunters, standing not far apart, forming a line. When I arrived at the hunting spot, I was already telling myself that I wouldn't get any animals because of the dense vegetation. In those circumstances, to have an opportunity to take a shot, the animal can't be more than 30 meters from me.
30 minutes after the passing of the beaters, I heard a noise at the center of the area. At this moment, I was looking at my phone so not really focused on the hunt. As the noise became stronger, I had the reflex to throw down my phone.
That's when I saw it: an angry wild boar with aggressive eyes. I almost pissed myself because the animal started to run after me. The beast was only 25 meters from me so I took the shot. At first, I thought it was dead, but ten seconds later the wild boar started to run at me again. I had to take a second shot at 15 meters. I was quite scared that the beast would attack me again, but this time it was over.
The driven hunt wasn't over so I didn't move from my spot. I was surprised and still shocked by the action.
A few minutes after, I started wondering about the size of the animal. As it was laying in vegetation, I was only able to see a bit of its face and it didn't look particularly big. I didn't care to know more about its size at that point as it was my first one.
The discovery
When driven hunt was over my two friends approached me to see the animal. This was the moment we all realized that it was gigantic. We were so surprised that we got the giggles. As it was almost dark, we tried to move the animal but we quickly realized that even with 3 people, it was impossible to move it. We had to call all the hunters around to help us. The beast was 110 kilos cleaned.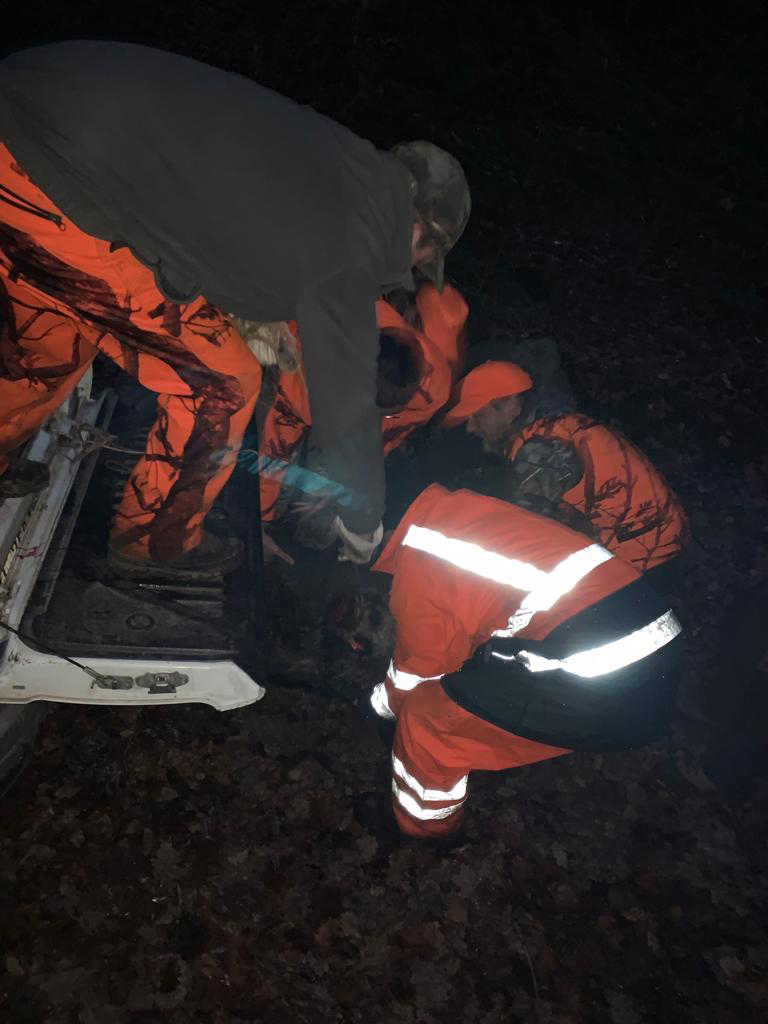 This was it, my first wild boar, and it was a keiler. The moment was so surreal I could barely comprehend what happened.
After the hunting board, where I got baptized by one of my friends with the blood of the animal, I started to feel almost embarrassed to get a keiler as my first wild boar. I'm not a trophy guy, so I'm not used to getting big animals.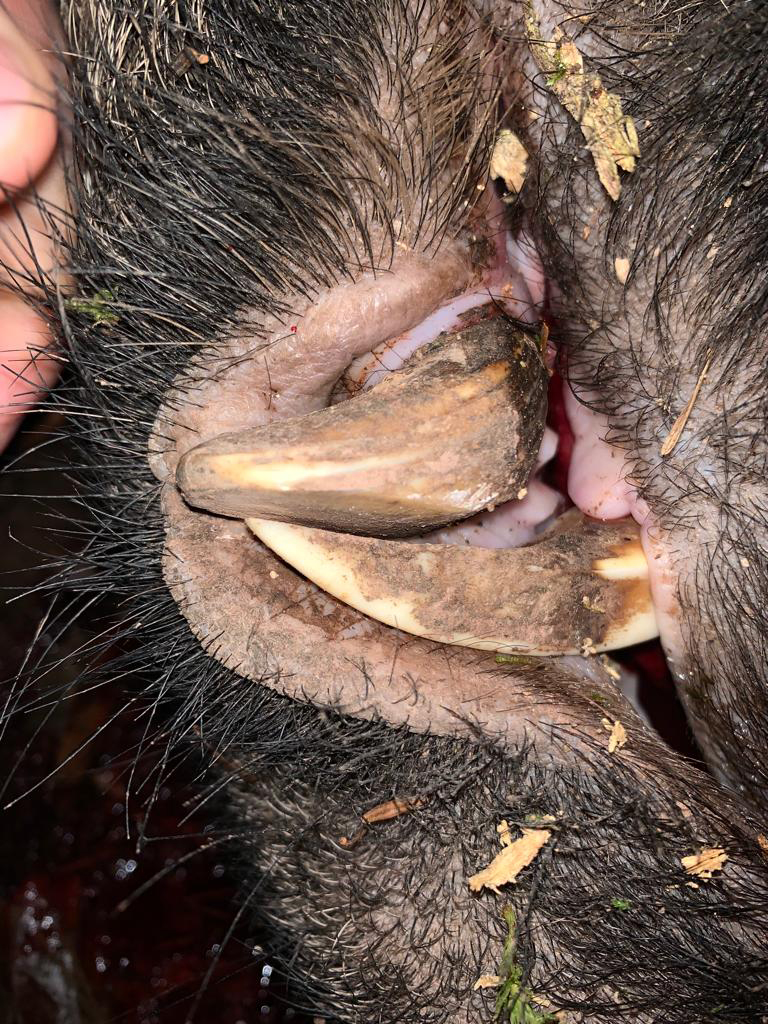 But the day was over and I finally got my Alsacian beer.
Bringing the giant home
It was only the day after when we came back home and we put the animal in the cold room that I could really appreciate the size of the beast. Its head was so big that I decided to call Christopher, my favorite taxidermist. Funny fact: Swiss national TV was following him to make a documentary about his job, so my keiler was on TV!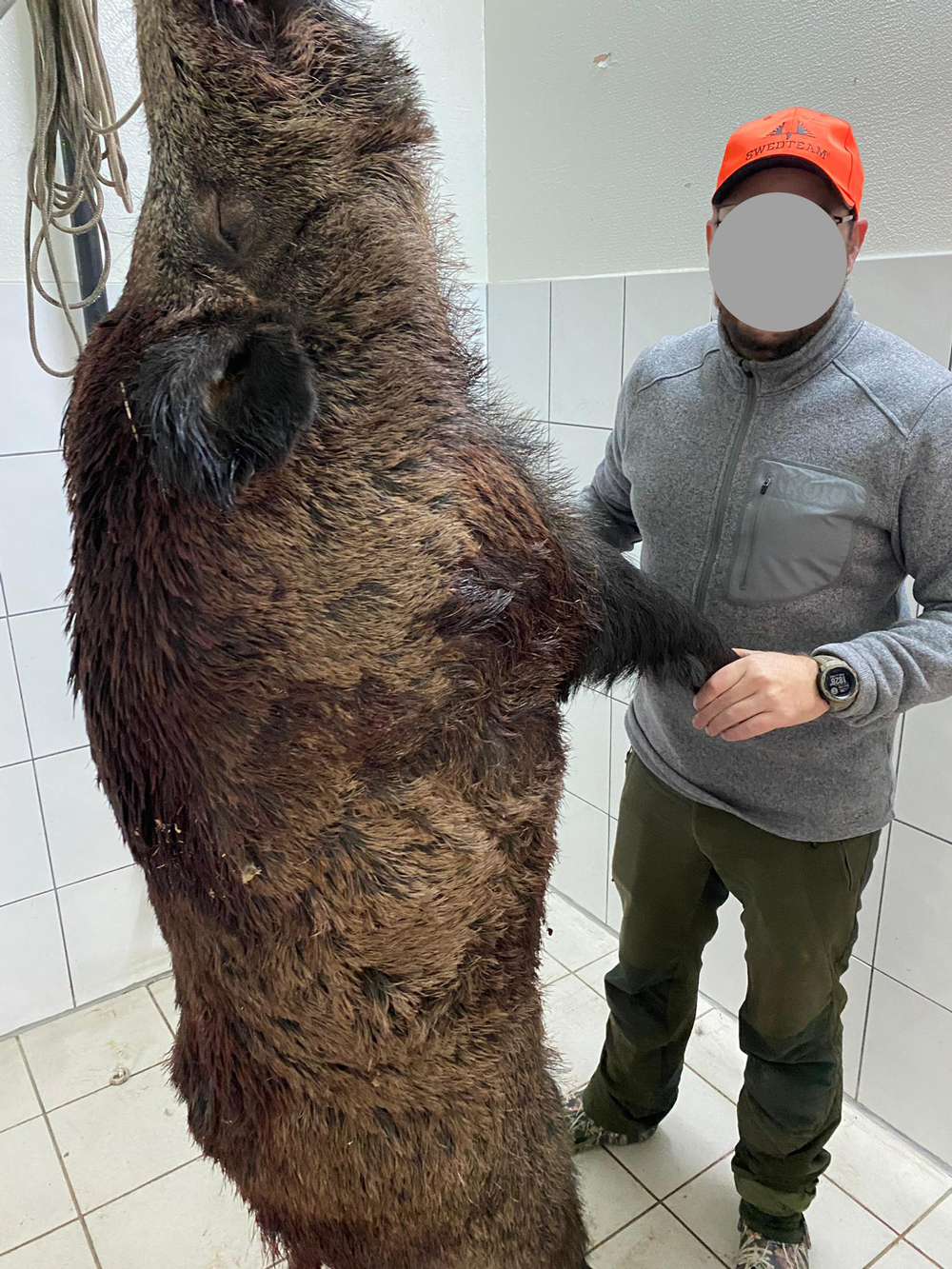 We had a lot of meat to share and here is a meal I prepared. To be honest, the meat had such a strong taste that I didn't eat a lot of it, but I cooked it for my friends and family.
Getting a keiler like this as my first wild boar is kind of sad as I probably will never get a bigger one. But my objective has never been about the size of the animal but about the journey.
So let's explore new hunting places to bring new souvenirs. My next wild boar adventure will be at Valle di Buriano in Italy. Who knows what will happen there…
Pour la version podcast en français, voici le lien
---
Also to be read
September 8, 2022 | Hunting stories
As a Swiss hunter, the opportunity to hunt an ibex is quite a privilege. This hunt is not included in the annual license you buy each year so you need to get into a selection process. Therefore the process behind this hunt is so precise that it deserves its own article. Let me share my […]
December 28, 2022 | Hunting stories, Hunting trips
A hunting trip is one of the most rewarding experiences you can do as a hunter. It's a unique way to discover new countries, people, and cultures. It's also the best option if you don't want to visit a place as "a tourist" but live the way "locals" do. To get the most out […]
| Hunting stories, Hunting trips
This is the second part of a series of articles "My trip to Bosnia-Herzegovina and Croatia". To get the best experience, I recommend reading the first part. Chapter 2: The mouflon quest After two intense days of hunting small games in Bosnia and Herzegovina, it was time to head to our next […]