The Huntsquad app: an app 100% dedicated to safety
If you follow Hunt and Eat Well on social media, you probably saw that we are developing an iOS/Android hunting application 100% dedicated to safety during driven hunts.
I used to go hunting for wild boar in Alsace, where I enjoy Sauerkraut and the beautiful landscape. But as you all know driven hunts can be dangerous if security rules are not respected. Luckily, in the place I hunt, security is the first and most important factor during the hunt. I feel completely secure during the hunt but I always remind myself that the possibility of an accident always exists.
The Huntsquad idea came after my last hunting weekend in Alsace. I had all the issues you can encounter during a driven hunt in one day. Fortunately, none of these issues resulted in an accident. However, I took this situation as an opportunity to develop a tool that will help me and the others hunters to hunt in a safer environment.
The scary numbers
According to the French Biodiversity Agency, there were 95 hunting accidents during the 2021-2022 season and 8 of them were deadly. Anti-hunting people use those numbers as an argument against hunters by saying that we are a danger to the other users of nature. But if you look closer, 9 times out of 10, the victim is a hunter. To be more precise, during the 2021-2022 seasons, of the 95 accidents, 26% of the victims were non-hunters while 74% were hunters.
I immediately compared this with Switzerland where we had zero deadly accidents. How is that possible?
First, in Switzerland, we don't really have driven hunts. This type of hunting demands a high sense of security and responsibility. Then there is the training. In our country, it takes two years to get your license. During these two years, you have to pass a practical exam at the shooting range and a written and oral exam based on 300-page book – this is not the case in France.
If you put aside these two aspects, how else can we bring a quick and feasible solution to improve security during driven hunts?
The real problem
Well, some people tried a solution by developing an app that allows non-hunters to be informed about driven hunts organized near them. But remember the numbers: 74% of the victims are hunters. So why don't we take that fact into consideration in safety apps?
It was time to create a solution to help hunters to be safer during a driven hunt.

By looking at the problem in this way, I reached the following conclusion:
If hunters have a safety tool created exclusively for them, they can make the hunt safer for everybody (hunters and non-hunters).
This is why I decided to create Huntsquad: the first hunting app dedicated to safety during group hunting expeditions.
What can I do with the app?

The features implemented on the apps all came from hunters' experiences on the field (mine included).
In the past, our group has used WhatsApp to communicate during the driven hunt, however this tool is not adapted for the purpose of hunting, as you lose your attention by reading personal messages. WhatsApp is a great tool but can be a huge source of distractions. During the hunt, you need to be focused on your task.

The main features of a dedicated hunting app needed to focus on communication between hunters. We had to find a way to communicate without texting. We came with the "notifications feature". In one click you can inform other hunters:
Warn the rest of your party of hikers and cyclists in your hunting vicinity
Get help if you are injured or in distress
Point out the presence of game
One other issue I always have during a driven hunt is that I am not sure about the start and the end of the hunt. Sometimes you can't hear the hunting horn well. This is why we included a digital hunting horn to launch and end the hunt.
As they are different types of actors during the driven hunt, we created different roles like hunter, beater, hunt leader, and more. All of them have different purposes in the app.
In our WhatsApp group, we used the localization feature so the other hunters know where we stand, but this wasn't always effective. This is why we decided to create a localization feature in which you can see the other members of the groups on the map.
Together we can ensure maximum safety when practising our passion. Huntsquad supports the preservation of the hunting tradition, which faces threats from many angles.
To care about the safety of hunting is to care about the future of our passion and its transmission to future generations.
Why are we different from the other app?
The app is 100% dedicated to safety:
One mission: to enable the safest hunting practices possible, through improved communication and the ability to easily locate others.
A high-end app for demanding users:
Imagined by hunters and created in Switzerland with the latest technologies ensuring optimal data protection.
User-friendly and usable for everyone:
We have implemented straightforward features with a simple design so every hunter can use it.
When this app will be available and how much will it cost?
Huntsquad will be available in the beta version in March 2023. The goal is to test the app before its official release on the app stores.
We are focusing on making the app available in the App Store and the Google Play Store by this summer.
As we consider that security has to be accessible to anyone, the app will cost 12 CHF per year. The people that participate in the beta will have a special discount.
If you want to help us make hunting in groups or in drives safer, register for the beta version and get exclusive access to the app.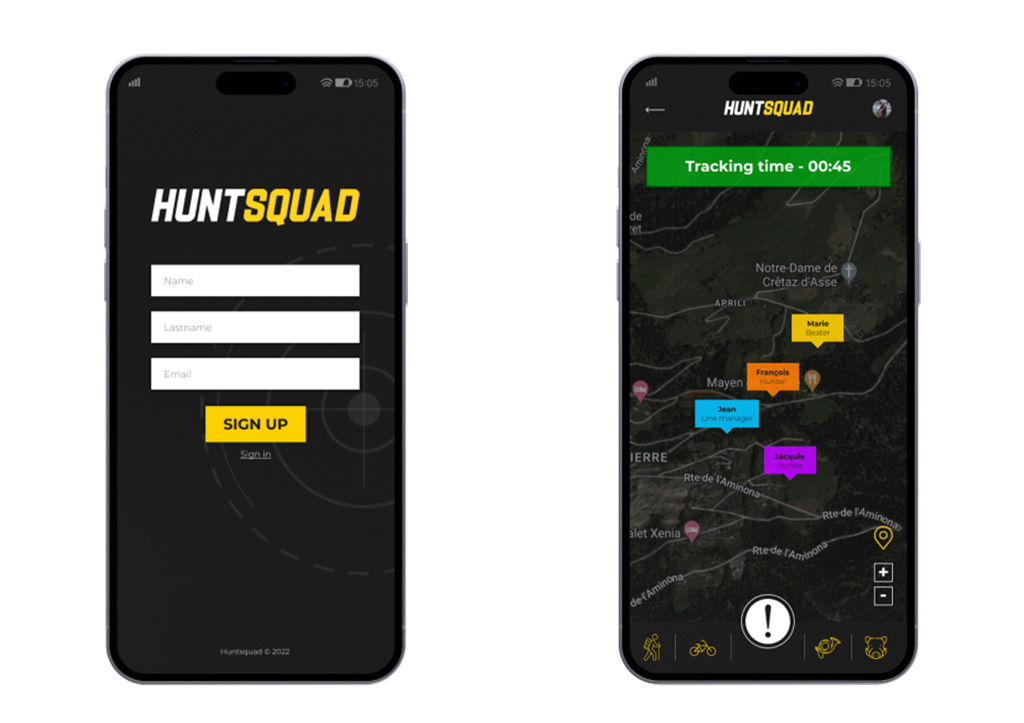 Pour la version podcast en français, voici le lien
---
Also to be read
October 10, 2022 | Security, Top 10
I'm a huge fan of gears and gadgets. I have a tendency to buy everything regarding the passions I have. As hunting is the biggest one, you can probably imagine how many items I have related to it. There is so much stuff you can buy in the market that you can get easily lost. […]